Horama Adds Significant Biopharma Industry and Cell and Gene Therapy Experience to Executive Team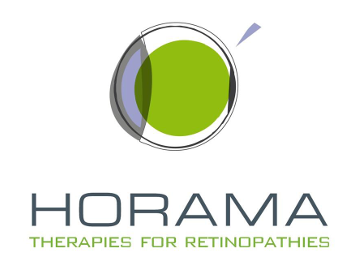 Rodolphe Clerval appointed Chief Executive Officer
Nicolas Ferry M.D., Ph.D. appointed Chief Development Officer, and
Cedric Cousteix appointed Finance Director
Paris, France – April 20th, 2021 – Horama, a clinical stage biotechnology company developing life changing gene therapies in rare diseases, announces the appointments of Rodolphe Clerval as Chief Executive Officer, Nicolas Ferry M.D., Ph.D. as Chief Development Officer and Cedric Cousteix as Finance Director. Former CEO, Christine Placet, will continue to support Horama as a Board member.
Benedikt Timmerman, Chairman at Horama said, "Rodolphe Clerval has played a key role in the management team since taking on the position of Chief Business Officer last year, bringing excellent strategic, business, and operational experience to the Company. I am delighted that Rodolphe has agreed to take on the role of CEO as we advance into an exciting new phase of development focused on exploiting the full potential of our AAV and gene therapy platform to offer life-changing gene therapies for rare Ocular and Central Nervous System (CNS) diseases."
He continued: "One of our corporate priorities is building a world-class cell and gene therapy company, and we are delighted to welcome Cedric Cousteix and Nicolas Ferry to Horama, two senior executives, with deep and relevant experience in their respective fields. Cedric's strong financial expertise and Nicolas's leadership and exceptional in-depth knowledge of gene therapies will be vital to Horama as we grow our pipeline of gene therapies for patients suffering from rare Ocular and CNS diseases."
 He further added: "On behalf of the Company and the Board, I would also like to express my sincere gratitude to Christine Placet, who, since founding the Company, has played an instrumental role in Horama's exciting progress to date. We look forward to Christine's continued support as a board member of our company."
 Rodolphe Clerval, Horama's newly appointed CEO, said, "I am very excited to take this new role at Horama alongside the other new and existing members of the team. The company is making excellent progress and I am looking forward to contributing to this as our pipeline grows, supported by a unique technology platform with the potential to significantly enhance gene therapy delivery and thereby improve the lives of patients across many rare diseases."
Rodolphe Clerval – Chief Executive Officer
Rodolphe Clerval has over 20 years of experience in the pharma and biotech industry. Previously Horama's Chief Business Officer (CBO), Rodolphe joined the Company in March 2020 from Enterome which he co-founded. During his tenure at Enterome, Rodolphe executed over 15 transactions, including major industrial partnerships with Takeda, J&J, BMS, Abbvie and Nestle Health Sciences, generating over €100 million in upfront, R&D payments, and equity investments. He was also actively involved in multiple fundraising rounds. Rodolphe also previously worked in business development at TcLand Expression and Genzyme, and as a sell-side equity analyst at Natixis Bank. Rodolphe Clerval graduated with a degree in Biochemical Engineering from Polytech Marseille and is a Certified European Financial Analyst from EFFAS-SFAF.
Nicolas Ferry, M.D., Ph.D. – Chief Development Officer
Dr. Nicolas Ferry joins Horama as CDO bringing more than 30 years' experience in cell and gene therapy and having authored more than 100 scientific publications. Prior to joining Horama  he was Scientific Director of the Department of Cell and Gene Therapy at Servier Laboratories from 2018 to 2020. He was previously developing a platform for cell and gene therapy at the Saint Louis hospital in Paris. Nicolas also spent more than 25 years as a scientist at INSERM, where he developed new gene and cell therapy strategies for liver cancer and hereditary liver diseases. He set up his own INSERM laboratory in 2009 and was an expert in gene therapy for the French regulatory authority (AFFSAPS) from 2000 to 2010. In 2011, he joined the French Medicines Agency (ANSM) as head of the Department of Vaccines, Blood Products and Advanced Therapies. From 2011 to 2016, Nicolas was also a member of the European Medicines Agency's Committee for Advanced Therapies. Nicolas was trained as an M.D., Ph.D. from Paris University.
Cédric Cousteix – Finance Director
Cédric Cousteix brings 15 years of experience in financial auditing, management, and transaction consulting. Prior to joining Horama, Cédric was at EY in Paris, where he specialized in private equity and growth companies and acquired deep expertise in financial auditing and transaction consulting. Cédric is an engineer who graduated from the Grande École d'Ingénieurs (Institut supérieur d'électronique de Paris – ISEP) in Paris and also holds a degree in corporate finance from the EM Lyon Business School.
 ***
About Horama
Horama is a clinical stage biotechnology company developing life changing gene therapies in rare Ocular and CNS (Central Nervous System) diseases. Our team is pushing the boundaries of gene therapy by advancing next generation delivery platforms that will improve the effectiveness and coverage of gene transfer to address multiple diseases. Our differentiated mrAAV (modified recombinant Adeno Associated Virus) platform has a unique technological edge showing higher transduction and tissue targeting, with superior properties vs. current best in class.
For more information, please go to: www.horama.fr